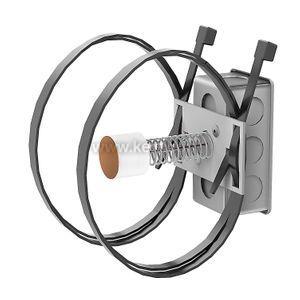 BA/1.8K-STP | BAPI | Temperature Sensors & Transmitters
Strap-On Temperature Sensor, 1.8K Thermistor, 5.00" to 14.50" Pipe Diameter
Manufacturer:
BAPI
MPN:
BA/1.8K-STP
SKU:
BA/1.8K-STP
Availability:
Usually Ships in Less Than 12 Business Days
add to cart

product specifications
#20||APB-28||PN-46||TCC-111||TCC-12||T85U-XR||T81U-XR||T91U-XR||UR||DCP-1.5-W||DCPA-1.2
Cold Water Systems||Hot Water Systems||Retrofit||Hydronic Heating Systems||Chillers
Strap-On Temperature Sensor, 1.8K Thermistor, 5.00" to 14.50" Pipe Diameter
TEMP SENSOR, STRAP-ON, 1.8K, 5.00" TO 14.50"
product family features
Strap-on or clamp-on models
Lifetime limited sensor warranty
Wide selection of mounting styles
more information & related documents
The BAPI BA Strap-On Temperature Thermistor and RTD Sensors are designed specifically for HVAC systems to monitor water temperature in retrofit or filled pipe applications. They fit around the outside of a pipe and measure the water temperature by sensing the surface temperature of the pipe. They come in thermistor and RTD sensors and feature etched teflon leadwires to perform under real world conditions.
STRAP-ON 1.8K THMS W/ SPRING LOADED PROBE