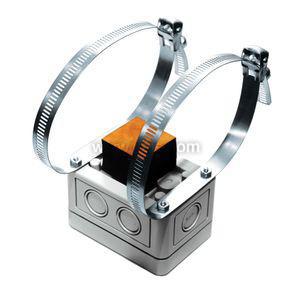 TT1K-S-2-4X-0° to 100°F | ACI | Temperature Sensors & Transmitters
Non-Intrusive Strap-On Pipe Mount, 1K RTD 385 Transmitter, 0° to 100°F, Polycarbonate NEMA 4X Enclosure, 2-10 VDC Output
Manufacturer:
ACI
MPN:
TT1K-S-2-4X-0° to 100°F
SKU:
TT1K0100S4X2
Availability:
Usually Ships in Less Than 14 Business Days
add to cart

product specifications
#20||APB-28||PN-46||TCC-111||TCC-12||T85U-XR||T81U-XR||T91U-XR||UR||DCP-1.5-W||DCPA-1.2
Cold Water Systems||Hot Water Systems||Retrofit||Hydronic Heating Systems||Chillers
Non-Intrusive Strap-On Pipe Mount, 1K RTD 385 Transmitter, 0° to 100°F, Polycarbonate NEMA 4X Enclosure, 2-10 VDC Output
TEMP XMTR, BULLET, 1K RTD 385, 1.25" TO 4.00", 0-10 VDC, 0° TO 100°F
Transmitter Temperature Range
product family features
Fits pipes 2" to 5" (5.1 to 12.7 cm)
more information & related documents
The ACI Strap On Series Thermistor and RTD Sensors are designed specifically for HVAC system temperature control. The strap-on sensors come in thermistor and RTD sensor curves compatible with most BAS systems available today. Strap-on sensors come with a handy box and stainless steel strap for 5" (12.7 cm) pipes. The ACI Strap-On Sensor mounts directly to a 2" to 5" (5.1 to 12.7 cm) pipe. Clean off any insulation or rust to promote solid contact of the copper plate to the pipe. Wrap and tighten the strap around the pipe and compress the foam fully for a firm mount. Faster response can be achieved by using TCC-12 thermal conductive compound.
STRAP ON XMT 1K RTD 0-100F 2/10V WTHR PRF BOX