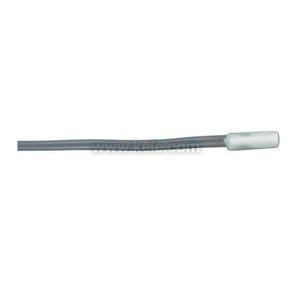 KTM22-XN3 | Kele | Temperature Sensors & Transmitters
Bullet Temperature Sensor, 3000Ω Encapsulated Thermistor @ 77°F (25°C), Type II (Gray leads), NIST Certificate, Three Reference Points 32°F/77°F/158°F (0°C/25°C/70°C)
Manufacturer:
Kele
MPN:
KTM22-XN3
SKU:
KTM22-XN3
availability:Usually Ships in Less Than 14 Business Days
add to cart

product specifications
T85U-XR||T81U-XR||T91U-XR||UR||DCP-1.5-W||DCPA-1.2
Cold Water Systems||Hot Water Systems||Retrofit||Hydronic Heating Systems||Chillers
Bullet Temperature Sensor, 3000Ω Encapsulated Thermistor @ 77°F (25°C), Type II (Gray leads), NIST Certificate, Three Reference Points 32°F/77°F/158°F (0°C/25°C/70°C)
TEMP SENSOR, BULLET, , 3K, 0.50" PROBE
product family features
Wide selection of thermistor and RTD curves
Adaptable miniature sensor
High heat dissipation constant
Pre-aged, highly stable thermistor material
more information & related documents
The Kele KTM, KTMR Series Thermistor and RTD encapsulated sensors provide remote temperature sensing for building automation systems and mechanical equipment room instrumentation. The active sensing element is a highly stable thermistor material or platinum RTD. The sensor is encapsulated with a low mass, high conductivity compound for good heat transfer characteristics. It is enclosed in a tough, miniature cylinder, 0.17" (0.43 cm) in diameter, which is small enough to be installed in most HVAC thermostat enclosures.
RAW SENSOR 3K OHM NIST 3 PT