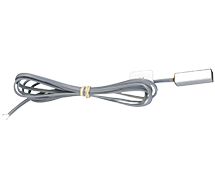 * product family image displayed
TE200G24 | Greystone Energy Systems | Temperature Sensors & Transmitters
GLASS 10K TYP2 THM 2 IN
Manufacturer:
Greystone Energy Systems
MPN:
TE200G24
SKU:
TE200G24
Availability:
Contact Kele for more information
add to cart

product family specifications
2,252Ω, 3,000Ω, 10,000Ω Type II & III, 20,000Ω
100Ω Platinum 385 curve, 1,000Ω Platinum 385 curve, 1,000Ω Nickel
-4° to 221℉ (-20° to 105℃)
Materials Of Construction
5' (1.5 m) of 22 AWG stranded copper
more information & related documents
The Greystone Energy Systems Model TE200G Glass Thermistor and RTD Sensors feature imbedded sensors to sense temperature. The model TE200G is a single point glass temperature sensor encapsulated in an aluminum probe. Small in size and ideal for mounting on windows to provide fast response.