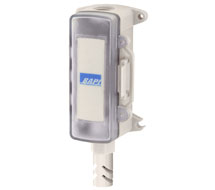 * product family image displayed
BA/1K-O-PROBE-ONLY-W/-NUT | BAPI | Temperature Sensors & Transmitters
OSA 1K-O-PROBE ONLY W/NUT
Manufacturer:
BAPI
MPN:
BA/1K-O-PROBE-ONLY-W/-NUT
SKU:
BA1KOPROBEOWNUT
Availability:
Usually Ships in Less Than 7 Business Days
add to cart

product family specifications
100Ω, 1000Ω, 385 curve; 1000Ω, 375 curve
-40° to 185°F (-40° to 85°C)
0.14 °C with 6,000 continuous hours at 400 °C
2.7 mW/°C (power need to raise the temperature 1°C)
NEMA 4, weatherproof, UV- resistant plastic enclosure
NEMA 4, BAP-Box 2 IP66 rated, UV-resistant plastic enclosure
22 AWG wire, etched teflon leads
product family features
Well ventilated, light colored sensor guard
three watertight enclosure styles
Lifetime limited sensor warranty
more information & related documents
The BAPI BA Series OSA Thermistor and RTD Sensors are designed specifically for HVAC systems to be mounted outdoors. The UV-resistant plastic shield keeps the sensor out of the sunlight and allows for excellent air circulation. They come in thermistor and RTD sensors and feature etched teflon leadwires to perform under real world conditions.
OSA 1K-O-PROBE ONLY W/NUT