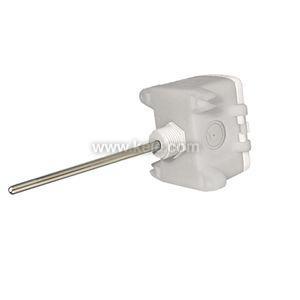 BA/1.8K-I-4"-BB4 | BAPI | Temperature Sensors & Transmitters
Immersion Temperature Sensor, 1.8K Thermistor, 4" Probe, BAPI-BOX 4 Plastic Enclosure, IP10 Rated Nylon (IP44 Rated with Knockout Plug in the Open Port)
Manufacturer:
BAPI
MPN:
BA/1.8K-I-4"-BB4
SKU:
BA/1.8KI4BB4
Availability:
Lead time > 15 days. See alternatives below or chat with Sales.
add to cart

product specifications
T81U-XR||T85U-XR||TCC-111||TCC-12||UR
Immersion Temperature Sensor, 1.8K Thermistor, 4" Probe, BAPI-BOX 4 Plastic Enclosure, IP10 Rated Nylon (IP44 Rated with Knockout Plug in the Open Port)
TEMP SENSOR, IMMERS, 1.8K, 4.00" PROBE, POLY ENCL
product family features
Several enclosure styles with mounting tabs
Probe lengths: 2″, 4″ and 8″
Lifetime limited sensor warranty
more information & related documents
The BAPI BA Series Thermistor and RTD Immersion Sensors are designed specifically for HVAC systems. They come in thermistor and RTD sensors and feature double encapsulated sensor etched Teflon leadwires to create a watertight package that can perform in the real world.
TEMP SENSOR, IMMERS, 1.8K, 4.00" PROBE, POLY ENCL