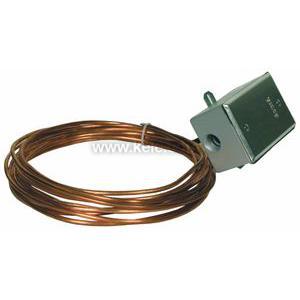 S100949PFY50 | Minco Products | Temperature Sensors & Transmitters
Duct Averaging Temperature Sensor, Flexible, 1K RTD 385, 50.00' Probe, NEMA 4 Metallic Enclosure
Manufacturer:
Minco Products
MPN:
S100949PFY50
SKU:
ST-AV85H50
Availability:
13 In Stock
add to cart

product specifications
CC-1G-K||DCPA-1.2||691-K0A||DCP-1.5-W||M-648-K||T81U-XR||T85U-XR||T91U-XR
Duct Averaging Temperature
Duct Averaging Temperature Sensor, Flexible, 1K RTD 385, 50.00' Probe, NEMA 4 Metallic Enclosure
TEMP SENSOR, AVG, FLEXIBLE, 1K RTD 385, 50.00' PROBE, METALLIC ENCL
product family features
12' (3.7m), 24' (7.3 m) or 50' (15.2 m) lengths
100 or 1,000 ohm 385 sensor
more information & related documents
The Minco ST-AV81H, ST-AV85H 100Ω and 1000Ω Platinum Curve Averaging Sensors provide accurate sensing of duct temperatures when a large area must be covered. Ideal for industrial applications and building automation systems, these sensors average temperatures over their entire length and terminate in a weather resistant housing. The averaging sensors use sensing elements that closely match platinum resistance/temperature characteristics over the specified range. The sensors have copper cases that are bendable to a radius of 4" (10.2 cm), and they can crisscross a duct or plenum to average out temperature stratification.
TEMP SENSOR, AVG, FLEXIBLE, 1K RTD 385, 50.00' PROBE, METALLIC ENCL