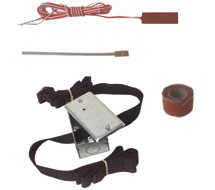 S456PEY6 | Minco Products | Temperature Sensors & Transmitters
AVG RIGID 100 OHM RTD 6 IN SENSOR
Manufacturer:
Minco Products
MPN:
S456PEY6
SKU:
S456PEY6
availability:Usually Ships in Less Than 28 Business Days
add to cart

product family specifications
-4° to 350℉ (-20° to 177℃)
1000Ω platinum RTD TCR 0.00375 Ω/Ω/℃ (385 available)
100Ω platinum RTD TCR 0.00385 Ω/Ω/°C
Materials Of Construction
Polyamide film with elastomer cover, silicone rubber
Adhesive backing (flat surface) AC766 pipe-mount kit with tape (conduit) #20 stretch tape (round surface)
0.472″ W X 0.197″ H, 48″ leads (1.2 X 0.5 cm)
0.600″ W X 0.197″ H, 40″ leads (1.5 X 0.5 cm)
product family features
Small, flexible, and thin
Platinum stability and accuracy
more information & related documents
The Minco Model S101144 and S469 Self-adhesive, Flexible Ribbons RTD Sensors feature imbedded RTDs to sense temperature. The platinum 1000Ω RTD sensor is inserted and used with a transmitter or directly into a BAS system. The self-adhesive backing makes installation easy and it adheres to all types of surfaces. The fl exible thin ribbon maximizes contact to the measured surface which makes response time very fast. The accuracy is the same as immersion sensors. The Minco S665 & S667 Series RTD Sensors are 100 ohm flexible ribbon sensors that are easily adapatble to most any clean, flat surface. The S665 Series is a thin film sensor with an elastomer cover. The S667 Series is a silicone rubber, elastomer covered thin film sensor with a foil backing, capable of submersion applications.
AVG RIGID 100 OHM RTD 6 IN SENSOR
Pipe Application Aid