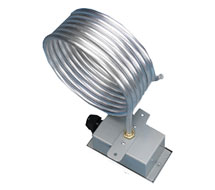 * product family image displayed
TE-705-B-5-C-1 | MAMAC Systems | Temperature Sensors & Transmitters
TEMP SENSOR, AVG, FLEXIBLE, 1K BALCO RTD, 24.00' PROBE, METALLIC ENCL
Manufacturer:
MAMAC Systems
MPN:
TE-705-B-5-C-1
SKU:
TE-705-B-5-C-1
Availability:
Lead time > 15 days. See alternatives below or chat with Sales.
add to cart

product family specifications
more information & related documents
The Mamac Systems Model TE705 Averaging Temperature Sensors provides precision remote temperature sensing for building automation systems and mechanical equipment room instrumentation.
TEMP SENSOR, AVG, FLEXIBLE, 1K BALCO RTD, 24.00' PROBE, METALLIC ENCL