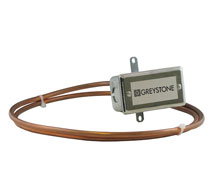 * product family image displayed
TE200DRE24M2 | Greystone Energy Systems | Temperature Sensors & Transmitters
RIGID AVG TEMP SENS DUCT ABS RD 10K TYP2 THM 36 IN
Manufacturer:
Greystone Energy Systems
MPN:
TE200DRE24M2
SKU:
TE200DRE24M2
availability:Usually Ships in Less Than 8 Business Days
add to cart

product family specifications
more information & related documents
The Greystone Energy Systems TE200D Series Averaging Thermistor or RTD Sensor provides precision remote temperature sensing for building automation systems and mechanical equipment room instrumentation.The sensing elements are sealed in a 3/16" (0.48 cm) soft-drawn copper coiled tube, attached to a variety of housings. The TE200DR Series Rigid Averaging Thermistor or RTD Sensor is designed for direct mounting to sheet metal for average duct temperature sensing. The sensors can come in lengths of 18″, 24″ or 36″.
RIGID AVG TEMP SENS DUCT ABS RD 10K TYP2 THM 36 IN