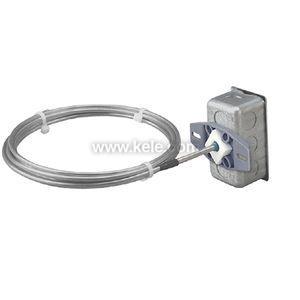 BA/T1K[0 TO 100F]-A-12' | BAPI | Temperature Sensors & Transmitters
Averaging Temperature Sensor, 1K RTD Transmitter, 4-20 mA, 0-100°F, 12' Flexible Probe, Junction Box
Manufacturer:
BAPI
MPN:
BA/T1K[0 TO 100F]-A-12'
SKU:
BAT1K0TO100FA12
Availability:
Usually Ships in Less Than 7 Business Days
add to cart

product specifications
CC-1G-K||M-633||M-648-K||DCPA-1.2||691-K0A||DCP-1.5-W||UR||T81U-XR||T85U-XR||T91U-XR
Duct Averaging Temperature
Averaging Temperature Sensor, 1K RTD Transmitter, 4-20 mA, 0-100°F, 12' Flexible Probe, Junction Box
TEMP SENSOR, AVG, FLEXIBLE, 1K RTD 385, 12.00' PROBE, METALLIC ENCL
product family features
Flexible averaging lengths: 8' (2.4m), 12' (3.7m) and 24' (7.3m)
Several enclosure styles with mounting tabs for easy installation
Limited lifetime warranty
more information & related documents
The BAPI BA Series Averaging Thermistor and RTD Sensors are availible in a variety of easy to mount installation types. They come in thermistor and RTD sensors and feature etched Teflon leadwires. Flexible probes are made of bendable aluminum while the rigid probes are made of stainless steel.
TEMP SENSOR, AVG, FLEXIBLE, 1K RTD 385, 12.00' PROBE, METALLIC ENCL