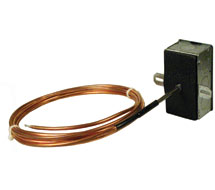 * product family image displayed
A/20K-RA-36-PB | ACI | Temperature Sensors & Transmitters
TEMP SENSOR, AVG, RIGID, 20K, 36.00" PROBE, POLY ENCL
Manufacturer:
ACI
MPN:
A/20K-RA-36-PB
SKU:
A/20K-RA-36-PB
Availability:
Usually Ships in Less Than 8 Business Days
add to cart

product family specifications
10 kΩ Type II & III, 20 kΩ, 100 kΩ
-40° to302℉ (-40° to 150℃)
0.24℉ (0.13℃) over five years
Thermistor, 3 mW/℃ (power needed to raise the temperature by 1℃)
NEMA 1, Galvanized metal box
10" of 22 AWG wire or terminal strip
product family features
Lengths of 12' (3.7 m) or 24' (7.3 m)
more information & related documents
The ACI Series Averaging Thermistor and RTD Sensors are designed specifically for HVAC system temperature control. The averaging sensors come in thermistor and RTD sensor curves compatible with most BAS systems available today. Averaging sensors come with a foambacked handy box and in 12' (3.7m) or 24' (7.3) lengths. The ACI Averaging Sensor should be mounted across a duct in a serpentine fashion with bends in a smooth ark using an M-648-K or CC-1G-K clip. The RTD probe is sensitive for the entire length, while the thermistor is sensitive at nine evenly spaced sensor locations. Use standard metal screws to secure to the duct.
TEMP SENSOR, AVG, RIGID, 20K, 36.00" PROBE, POLY ENCL