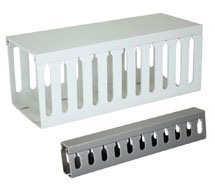 VD15-3G-CYBER | Kele | Panel Fabrication
WIRE DUCT 1.5X3X6.5 FT GRAY INCLUDING COVER, 3 PACK
Manufacturer:
Kele
MPN:
VD15-3G-CYBER
SKU:
VD15-3G-CYBER
availability:Contact Kele for more information
add to cart

product family specifications
product family features
High impact PVC, self extinguishing
UL recognized, file E97527
more information & related documents
The VD Series wiring duct allows the simplification and acceleration of panel-building operations such as wire retention, identification of equipment and circuits, and wire separation. If a project requires multiple panels configured in the same way, consider using Kele's Custom Panel Shop. Experienced panel technicians will assemble the panels according to specifications and drawings. Then, panels are shipped to a desired location. The information is saved so additional panels can be easily ordered on demand. Stop spending time on panel fabrication and let the experts do it.
WIRE DUCT 1.5X3X6.5 FT GRAY INCLUDING COVER, 3 PACK