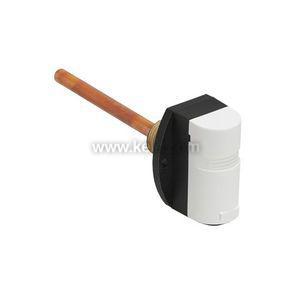 THTIPE4A | TASSERON SENSORS, INC. | Temperature Sensors & Transmitters
Q-Immersion Mini Pt1000, 4.00" Probe w/ 1/2" NPT Brass Adapter, IP40
Manufacturer:
TASSERON SENSORS, INC.
MPN:
THTIPE4A
SKU:
THTIPE4A
availability:Usually Ships in Less Than 7 Business Days
add to cart

product specifications
T81U-XR||T91U-XR||TCC-111||TCC-12||UR||WEK-B||WEL-S
Q-Immersion Mini Pt1000, 4.00" Probe w/ 1/2" NPT Brass Adapter, IP40
TEMP SENSOR, IMMERS, 1K RTD 385, 4.00" PROBE, POLY ENCL
product family features
AISI 316 stainless steel temperature probe
Complete with 1/2″ NPT brass/copper or stainless steel immersion well or brass adapter
Patent Pending Quick Connect System eliminates wire nuts
NTC thermistors and RTD elements available
Compatible with any control system
more information & related documents
The Tasseron Q-Immersion Series are high quality universal Immersion Temperature Sensors with IP40 galvanized steel enclosures and stainless steel AISI 316 probe for both commercial and industrial applications. Available measuring elements interface with all major control manufactures. Accurate thermistors and RTD's ensure low drift and are double encapsulated to guarantee the highest reliability. The sensors come with a 1/2″ NPT brass/copper or stainless steel immersion well for corrosive applications. The dual-slotted foamed cover and patent pending Quick Connect System make installations easy and reduce installation costs.
TEMP SENSOR, IMMERS, 1K RTD 385, 4.00" PROBE, POLY ENCL