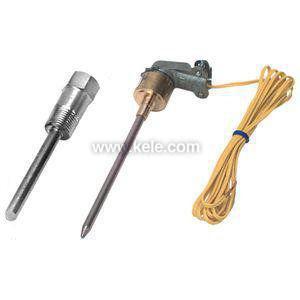 ST-W81S-XD | KPM- KELE PREC MFG | Temperature Sensors & Transmitters
Immersion Temperature Sensor, 100 RTD 385 , Sensor with Stainless Steel Well 900°F (482°C) max temp, 3000 psig (20.7 kPa) max pressure, Dual Sensors in One Probe, 3-1/4" Probe
Manufacturer:
KPM- KELE PREC MFG
MPN:
ST-W81S-XD
SKU:
ST-W81S-XD
availability:Usually Ships in Less Than 3 Business Days
add to cart

product specifications
Immersion Temperature Sensor, 100 RTD 385 , Sensor with Stainless Steel Well 900°F (482°C) max temp, 3000 psig (20.7 kPa) max pressure, Dual Sensors in One Probe, 3-1/4" Probe
Dual Sensors||Stainless Steel Well
TEMP SENSOR, IMMERS, 100 RTD 385, 4.875" PROBE, NO ENCL
product family features
±0.36℉ (±0.2℃) thermistor accuracy
Wide selection of thermistor and RTD curves
Brass thermowell for quick temperature response
Adaptable with many options
Easy to mount and remove from thermowell
Waterproof stainless steel probe
more information & related documents
The Precon Model ST-W Immersion Sensor from PreCon provides precise remote temperature sensing for Building Automation Systems, BAS, and mechanical equipment room instrumentation. The active sensing element is a highly stable precision thermistor material or platinum RTD. The sensing element is sealed with a temperature conductive compound in a 4-7/8" (12.4 cm) stainless steel tube and brass fitting. A brass thermowell is the standard well provided with each sensor. A Greenfield connector is factory installed for flexible connection. The probe assembly on these immersion sensors are removable for replacement without the draining system.
TEMP SENSOR, IMMERS, 100 RTD 385, 4.875" PROBE, NO ENCL