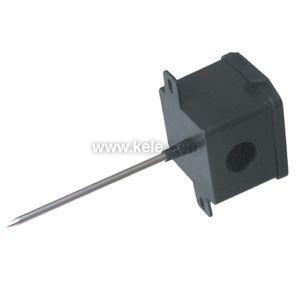 ST-U91-XD | KPM- KELE PREC MFG | Temperature Sensors & Transmitters
1K RTD 375 Universal Duct Sensor, Dual Sensors In One Probe
Manufacturer:
KPM- KELE PREC MFG
MPN:
ST-U91-XD
SKU:
ST-U91-XD
availability:
Usually Ships in Less Than 14 Business Days
add to cart

product specifications
T81U-XR||T85U-XR||T91U-XR||OSAB||F-1000-331
Air Handling Unit||Duct Temperature
1K RTD 375 Universal Duct Sensor, Dual Sensors In One Probe
TEMP SENSOR, DUCT, 1K RTD 385, 4-7/8", NO ENCL, NO OUTPUT
product family features
Flame retardant, plenum rated
Wide selection of thermistor and RTD curves
Adaptable with many mounting options
304 stainless steel probes
Easy to mount to duct, well, or wall
Ultra high accuracy optional
more information & related documents
The Precon Model ST-U Universal Mount Sensor from PreCon provides precise remote temperature sensing in multiple applications such as duct, OSA, and immersion installations for Building Automation Systems, BAS. The active sensing element is a highly stable precision thermistor material or platinum RTD. The sensing element is sealed with a thermally conductive compound in a 4-7/8" (12.38 cm) long stainless steel probe and is attached to a 2.5" (6.35 cm) square enclosure. These sensors have tabs on the enclosure to provide mounting ears for direct duct mounting. They can be easily removed if they are not needed. This multipurpose enclosure minimizes the number of stock parts required to handle multiple applications.
TEMP SENSOR, DUCT, 1K RTD 385, 4-7/8", NO ENCL, NO OUTPUT