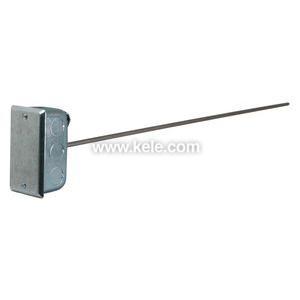 ST-FZR81-24-XN3 | KPM- KELE PREC MFG | Temperature Sensors & Transmitters
100Ω Rigid Averaging RTD @ 32°F (0°C), 385 Platinum Curve (Yellow Leads), 24'' Length, NIST Certificate, Three Reference Points 32°F/77°F/158°F(0°C/25°C/70°C)
Manufacturer:
KPM- KELE PREC MFG
MPN:
ST-FZR81-24-XN3
SKU:
ST-FZR81-24-XN3
availability:Usually Ships in Less Than 21 Business Days
add to cart

product specifications
356-090||T81U-XR||T85U-XR||T91U-XR||DCPA-1.2||691-K0A||DCP-1.5-W||UR
Duct Averaging Temperature
100Ω Rigid Averaging RTD @ 32°F (0°C), 385 Platinum Curve (Yellow Leads), 24'' Length, NIST Certificate, Three Reference Points 32°F/77°F/158°F(0°C/25°C/70°C)
TEMP SENSOR, AVG, RIGID, 100 RTD 385, 24.00" PROBE, METALLIC ENCL
product family features
Wide selection of thermistor curves
Four lengths to fit to most duct sizes
Easy to mount to duct wall
Four sensing elements in a series-parallel arrangement
more information & related documents
The Precon ST-FZR* Series Rigid Averaging Thermistor and RTD Sensor provides precision remote temperature sensing for building automation systems and mechanical equipment room instrumentation. The active sensing elements are constructed of highly stable precision thermistor materials or platinum RTDs. The sensing elements are sealed in a 304 stainless steel probe attached to a standard handy box with mounting bracket attached.
TEMP SENSOR, AVG, RIGID, 100 RTD 385, 24.00" PROBE, METALLIC ENCL