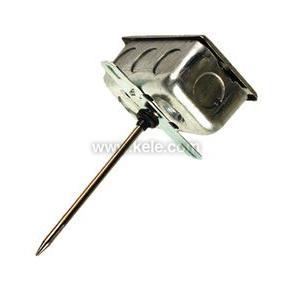 ST-D24-XH-XL18 | KPM- KELE PREC MFG | Temperature Sensors & Transmitters
Duct Temperature Sensor, 10K Type II Thermistor, Custom Length Insertion Probe, 18" Probe
Manufacturer:
KPM- KELE PREC MFG
MPN:
ST-D24-XH-XL18
SKU:
ST-D24-XH-XL18
availability:Call Kele For Availability
add to cart

product specifications
T81U-XR||T85U-XR||T91U-XR||UR||F-100-331
Duct Temperature||Air Handling Unit
Duct Temperature Sensor, 10K Type II Thermistor, Custom Length Insertion Probe, 18" Probe
TEMP SENSOR, DUCT, 10K TYPE II, 18.00" PROBE, METALLIC ENCL, NO OUTPUT
product family features
Wide selection of thermistor and RTD curves
Tip sensitive for precise temperature response
Greenfield fitting standard
more information & related documents
The PreCon Model ST-D* Duct Thermistor and RTD Sensor provides precision remote temperature sensing for building automation systems and mechanical equipment room instrumentation. The active sensing element is a highly stable precision thermistor material or platinum RTD. The sensing element is sealed with a thermally conductive compound in a 9" (22.8 cm) long 304 stainless steel tube attached to a 4" (10 cm) electrical strap. The slots in the mounting bracket form mounting ears for direct duct mounting and standard electrical boxes. The grommet on the tube fitting seals a 9/16" (1.43 cm) insertion hole.
TEMP SENSOR, DUCT, 10K TYPE II, 18.00" PROBE, METALLIC ENCL