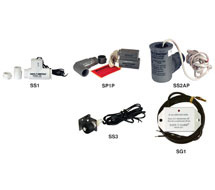 SS3-CYBER | Rectorseal | Level
AUXILIARY CONDENSATE PAN OVERFLOW SWITCH
Manufacturer:
Rectorseal
MPN:
SS3-CYBER
SKU:
SS3-CYBER
availability:Contact Kele for more information
add to cart

product family specifications
Primary (inline) or auxillary, Auxillary, Drain Pan
6 ft (1.8m), 18 AWG, 4 ft (1.2m), 18 AWG
0.2 lb (0.09 kg), 0.09 lb (0.04 kg)
product family features
Primary or auxiliary installation
Easy to install and service
more information & related documents
The SS/SP Series condensate overflow switch detects rising water in A/C condensate drain pans and shut off the system to prevent overflow and water damage. The condensate overflow switch is designed for installation on auxiliary drain pan outlets or inline on primary drains. Engineered for use in Building Automation Systems, BAS, and HVAC applications, the overflow switches are available with a solid state electronic probe or magnetic reed switch. These water detection devices include mounting adapters and hardware. The Model SG1 condensate overflow alarm is wired across the normally closed contacts of the condensate switch. As the water level rises, the water level switch opens allowing current to flow through the alarm. This activates a buzzer and flashing LED. The SG1 works with most 24 volt overflow switches and pumps and comes pre-wired with 4-foot 18 AWG lead wires and 2-sided tape.
AUXILIARY CONDENSATE PAN OVERFLOW SWITCH