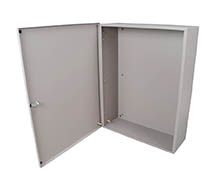 * product family image displayed
RET1-2018ULTN | Kele | Enclosures
ENCLOSURE, NEMA 1, 20 X 18 X 7, TAN
Manufacturer:
Kele
MPN:
RET1-2018ULTN
SKU:
RET1-2018ULTN
availability:
115 In Stock
add to cart

product family specifications
14 AWG Steel, made in the U.S.A.
Cold rolled w/spot welded hinges
Cold rolled and spot welded
Anti-scratch powder coated
Grey, tan, dark blue, (standard)
Removable w/bolds into frame
Left or Right, field reversible
Common key lock, (slot opt.)
Key hole at each corner, 4-key style holes, 1/4" 0 x 9/16"H
Eight, (two on each side)
Ten, (two per side, three top & bottom)
4-studs for optional perf panel
2-studs (Panel & Door) studs w/nuts, #10-32 x 1/2"L
Galvanized flat plate, 1/4" offset hole pattern
See table on catalog page
See table on catalog page
product family features
Low cost NEMA 1, w/8-10, 3/4" knockouts all around
Door opens to 180° and includes a ground stud
Doors are field-removable and reversible
Spot welded steel construction, 14 AWG
Anti-scratch powder coated in three standard colors
Perforated subpanel (optional)
more information & related documents
The Kele RET1 Series enclosure is an economical NEMA 1 enclosure designed to house controls and instruments for indoor use. It comes standard with a key lock in multiple sizes and is UL-listed with ground studs. The finish is powder coated, which is scratch resistant and comes in multiple colors. The door is both detachable and reversible and opens to 180° for easy panel and component installation. The RET1 enclosure has panel stud mounts used with an optional galvanized, perforated subpanel, which lowers labor cost through easy component alignment and mounting for a neat, finished look. Simply set the control components on the panel and attach with #7 or #8 self-tapping screws. Kele is the leading supplier of building automation products. When you need the right product, right now, count on Kele.
ENCLOSURE, NEMA 1, 20 X 18 X 7, TAN