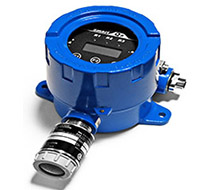 Q8-O3-1P-R-X | ACI | Gas & Specialty Sensors
COMBUST SENSOR, OZONE, 0-1 PPM, -4 TO 104 DEGREE,
Manufacturer:
ACI
MPN:
Q8-O3-1P-R-X
SKU:
Q8-O3-1P-R-X
availability:Usually Ships in Less Than 21 Business Days
add to cart

product family specifications
VDC Supply Voltage: 24 VDC nominal (+18 to 30 VDC)
VAC Supply Voltage: 24 VAC nominal (+15 to 24 VAC, AC Power must not be Grounded)
0.750A Polyswitch; (Automatically resets after fault is cleared & power to circuit is removed)
Supply Current | Power Consumption
4-20 mA, 1-5 VDC or 2-10 VDC
(4-Wire; Power, Power Ground, Output Signal, Output Signal Common)
4-20 mA Output: 600 Ohms maximum | 1-5 VDC or 2-10 VDC: 3000 Ohms minimum
RS-485 Modbus or OptoMux Proprietary Protocol (M-Controller, Q-Controller & Q4C Controller)
LCD Graphic Display with backlight (Displays TWA, STEL and Peak Daily Value)
Three (Non-Intrusive) Magnetic Switches
Relays | Contact Type | Relay Contact Ratings
Three, SPDT (Form 1C) Dry Contacts rated 1.0A max. @ 30 VDC or 0.3A max. @ 125 VAC (Resistive Load)
Two Green LED's (Tx/Rx Communication Status), Three Red LED's (Relays 1, 2, & 3 Status)
See Gas Sensor Selection & Specication Table on back of data sheet
24 Hours (Allow 24 hours before calibrating sensor after initial installation)
See Sensor Technology Type in Table on back of Product Data Sheet
Combustible and Toxic Gases/Oxygen Sensor
Toxic/Electrochemical Sensors: 2 to 3 Years , typical Oxygen/Hydrogen: 18 months, typical
Combustible/Catalytic: 3 to 5 years, typical
Toxic: 6 Months from date of purchase (Must be installed and operational)
Combustible: 1 Year from Date of Purchase (Must be installed and operational)
See User's Manual or Contact ACI
Combustible Sensors: Accuracy & Bump test every 3 months or as required by Code
Toxic Sensors: Accuracy & Bump test every 6 months or as required by Code
Enclosure Specifications (Type, Material Type,
Flammability, NEMA/IP Rating, Explosion Proof)
Industrial Connection Head; Cast Aluminum Epoxy Coated
NEMA 4X (IP66), Division 1 Division 2, ANSI/ISA 12.22.01 Class I Zone 1 AEx d II C, IP66 Zone 1
CSA E60079-1 Ex d II C, Class I, Zone I, IP 66
CSA C22.2 No. 30 Class I, Groups A, B, C, D; Class II Groups E, F, G; Class III
Two ¾" NPT threaded openings
Operating Temperature | Humidity
See Sensor Selection & Specifications Table on back of data sheet | 5 to 95% RH, non-condensing
Operating Atmospheric Pressure
14.696 psi (1.0132 bar) +/- 10%
Recommended Storage Temperature/Humidity
32 to 68ºF (0 to 20ºC) | 5 to 95% RH, Non-Condensing
Wiring Connections | Wire Size
Depluggable Screw Terminal Blocks, 16 to 24 AWG (0.51 to 1.30 mm) Shielded Twisted Pair
Belden 9841 or Equivalent, 120 Ohms Input Impedance
Terminal Block Torque Rating
0.37 ft-lb (0.502 Nm) Nominal
Coverage Area | Mounting Height
See Gas Sensor Selection & Specication Table on back of data sheet
RoHS, CSA- Class 4828-02 inspected to C22.2 No. 30 and No. 142 (CSA File #: 088890_0_000)
Product Dimensions (L x W x H)
7.48" (190 mm) x 5.71" (145 mm) x 5.12" (130 mm)
product family features
Comes standard with an integral clock
Available for toxic and combustible gases
Monitors gas concentrations
more information & related documents
The ACI Q8 Series of explosion-proof gas detectors are used in applications that require a rugged enclosure that meets Class 1 Division 2 requirements. Each unit comes standard with an integral clock, digital display of concentration, relay status, and peak daily values of the gas being detected. A three-color backlight will flash depending on the level of alarm for operator safety. Setup and calibration are accomplished through non-intrusive magnetic switches that allow programming for all parameters. A remote sensor option is available for toxic and combustible gases and should be used in applications where the main unit can be mounted 3- 6 feet off of the floor with the remote sensor being at the ceiling or floor levels to monitor the gas concentrations. Mounting height and remote sensor location depend on the gas being monitored. Sensor types include electrochemical and catalytic bead sensors to meet the demand and performance requirements for particular industries.
COMBUST SENSOR, OZONE, 0-1 PPM, -4 TO 104 DEGREE,