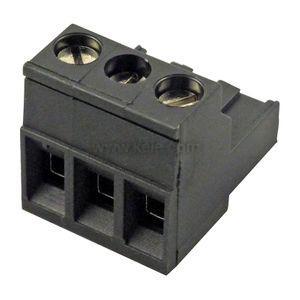 PLUG-CIF03001-0N | DENT INSTRUMENTS |
REPLACEMENT CONNECTOR FOR THE MODBUS (RS-485) OR PULSE CONNECTION (PS3037, PS12, PS48)
Manufacturer:
DENT INSTRUMENTS
MPN:
PLUG-CIF03001-0N
SKU:
PLUG-CIF030010N
availability:Usually Ships in Less Than 7 Business Days
add to cart

product specifications
REPLACEMENT CONNECTOR FOR THE MODBUS (RS-485) OR PULSE CONNECTION (PS3037, PS12, PS48)
RPLMNT CONNECTOR PS3037, PS12, PS48
product family features
PowerScout meters monitor voltage, current, power, energy, and many other electrical parameters on single and three-phase systems.
The PowerScout uses either BACnet or Modbus protocol and features digital pulse outputs. Available with Serial-only or with Ethernet.
Positive and negative Modbus registers/BACnet objects allow for the PowerScout to be used on net metering projects.
Mix-and-match a full range of Split Core or RoCoil™ Rogowski-style CTs
PhaseChek™ LED indicators confrm proper CT orientation.
Line-Powered*: 80-600V Phase-to-Phase Power Supply.
Data updates occur once every second.
Revenue grade. ANSI C12.20-2010 Class 0.2
Optional back-lit display available for verifying setup and checking real time values.
more information & related documents
The DENT Instruments PowerScout 3037 comes in four basic confgurations depending on whether a display or Ethernet port are desired. Instead of having one specifc meter for a single job, the PowerScout 3037 can adapt to nearly any project requirement. All PowerScout 3037 models have a broadband power supply (80-600VAC) and can be paired with a variety of current transformers, from split cores that measure <1A up to large RoCoils designed for measuring 4000A. In addition, communication protocols are feld-selectable. Easily toggle between Modbus or BACnet using ViewPoint software. Send kWh or other pulses to an external device. The pulse output is used to generate system kWh pulses for devices, such as data loggers, that can accept pulses, but do not have BACnet or Modbus capability. The PowerScout series networked power meters are designed to provide timely and accurate consumption data to gain the upper hand on electrical costs in today's escalating energy market. PowerScout meters can capture kWh/kW energy and demand data as well as virtually all relevant energy parameters for diagnostics and monitoring on three-phase or single-phase circuit installations. The PowerScout's flexibility, size, and ease-of-use make them ideal tools for gathering detailed consumption data in commercial, industrial, government and retail environments. Kele is the leading supplier of building automation products. When you need the right product, right now, count on Kele.
REPLACEMENT CONNECTOR FOR THE MODBUS/PULSE