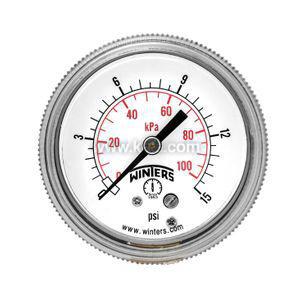 P9U901436UC | WINTERS INST | Pressure
2.5" 90 Series Steel Case Panel Mounted Gauge, 0-15 psi/kpa, +/-2-1-2% Accuracy, 1/4" NPT Center Back Mount
Manufacturer:
WINTERS INST
MPN:
P9U901436UC
SKU:
PG-25-0-15-4P
availability:Usually Ships in Less Than 175 Business Days
add to cart

product specifications
2.5" 90 Series Steel Case Panel Mounted Gauge, 0-15 psi/kpa, +/-2-1-2% Accuracy, 1/4" NPT Center Back Mount
DIAL GAUGE, ANALOG, ±2.00%, 30" HG VACUUM, 2.50" DIAL, 1/4" NPT, DRY, WET, LWR MOUNT
more information & related documents
The PG Series Pressure Gauges are durable, cost-effective, general purpose gauges for use in a wide variety of HVAC controls and building automation applications. All gauges are compatible with air, oil, and water and have a steel case, bronze bourdon tube, acrylic lens, and dual unit psi/kPa scale. The PG Series (except model PG-05) pressure gauge has a screw-on lens and recalibrator screw. A wide variety of models, options, and accessories are available, including panel-mount models, specialty gauges, and diaphragm seals. The Model 25W100 Refrigeration Gauge is ideal for installation on refrigeration manifolds for testing air conditioning units. The compound scale is designed specifically for R134A refrigerant testing.
DIAL GAUGE, ANALOG, +/-2.00%, 30" HG VACUUM, 2.50" DIAL, 1/4" NPT, DRY, WET, LWR MOUNT