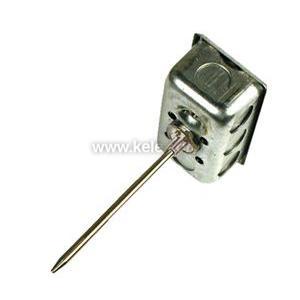 KTW22-XN2 | KELE | Temperature Sensors & Transmitters
Well immersion temperature sensor, 3K Thermistor, NIST Certificate, 2 points, 9" Probe
Manufacturer:
KELE
MPN:
KTW22-XN2
SKU:
KTW22-XN2
availability:Usually Ships in Less Than 14 Business Days
add to cart

product specifications
T81U-XR||T91U-XR||TCC-111||TCC-12||UR||WEK-B||WEL-S
Well immersion temperature sensor, 3K Thermistor, NIST Certificate, 2 points, 9" Probe
TEMP SENSOR, IMMERS, 3K, 4.875" PROBE, METALLIC ENCL
product family features
Metal enclosures with stainless steel probes
±0.5°F (±0.28°C) accuracy
Wide selection of thermistor or RTD sensors
more information & related documents
The Kele KTW* Immersion Thermistor and RTD Sensors are designed to be cost-effective with accuracies of ±0.5℉ (±0.28℃). Each sensor is constructed for easy installation with any building automation system (BAS). The thermistor is made of a very stable, pre-aged material that offer long-life reliability for HVAC control. The platinum RTD comes in 100Ω and 1000Ω versions. All sensors come with a three-year warranty.
TEMP SENSOR, IMMERS, 3K, 4.875" PROBE, METALLIC ENCL