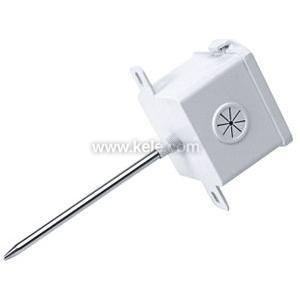 KTUS42-XN2 | KELE | Temperature Sensors & Transmitters
Universal-Mount Temperature Sensor, Duct, and Immersion, 20K Thermistor @ 77°F (25°C), Type IV, (Gray Leads), NIST Certificate, Two Reference Points 32°F/158°F(0°C/70°C)
Manufacturer:
KELE
MPN:
KTUS42-XN2
SKU:
KTUS42-XN2
availability:Usually Ships in Less Than 14 Business Days
add to cart

product specifications
T81U-XR||T85U-XR||T91U-XR||UR
Duct Temperature||Air Handling Unit||Hydronic HVAC
Universal-Mount Temperature Sensor, Duct, and Immersion, 20K Thermistor @ 77°F (25°C), Type IV, (Gray Leads), NIST Certificate, Two Reference Points 32°F/158°F(0°C/70°C)
TEMP SENSOR, DUCT, 20K, 4.875" PROBE, POLY ENCL, NO OUTPUT
product family features
Flame retardant, plenum rated
Adaptable with many mounting options
304 stainless steel waterproof probes
more information & related documents
The Kele KTUS/KTOS Series of Duct, Immersion, OSA Thermistor and RTD Temperature Sensors are very economical and are accurate to within ±0.5°F (±0.28°C). The Kele KTUS/KTOS Series sensors are ideally suited for HVAC applications. The mounting designs are based on proven techniques for installation efficiency with stainless steel probes for durability. These sensors come with a three-year warranty and are made of a very stable, pre-aged material which offers the reliability needed in HVAC systems.
TEMP SENSOR, DUCT, 20K, 4.875" PROBE, POLY ENCL, NO OUTPUT