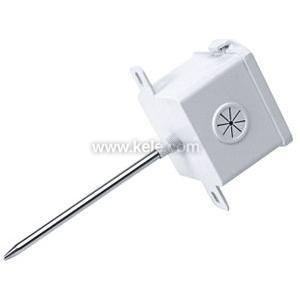 KTUS21-XG | KELE | Temperature Sensors & Transmitters
Universal-Mount Temperature Sensor, Duct, and Immersion, 2.252K Thermistor @ 77°F (25°C), Type II, (Gray Leads) , Greenfield Fitting (Factory Installed)
Manufacturer:
KELE
MPN:
KTUS21-XG
SKU:
KTUS21-XG
availability:Usually Ships in Less Than 14 Business Days
add to cart

product specifications
T81U-XR||T85U-XR||T91U-XR||UR
Duct Temperature||Air Handling Unit||Hydronic HVAC
Universal-Mount Temperature Sensor, Duct, and Immersion, 2.252K Thermistor @ 77°F (25°C), Type II, (Gray Leads) , Greenfield Fitting (Factory Installed)
TEMP SENSOR, DUCT, 2.252K, 4.875" PROBE, POLY ENCL, NO OUTPUT
product family features
Flame retardant, plenum rated
Adaptable with many mounting options
304 stainless steel waterproof probes
more information & related documents
The Kele KTUS/KTOS Series of Duct, Immersion, OSA Thermistor and RTD Temperature Sensors are very economical and are accurate to within ±0.5°F (±0.28°C). The Kele KTUS/KTOS Series sensors are ideally suited for HVAC applications. The mounting designs are based on proven techniques for installation efficiency with stainless steel probes for durability. These sensors come with a three-year warranty and are made of a very stable, pre-aged material which offers the reliability needed in HVAC systems.
TEMP SENSOR, DUCT, 2.252K, 4.875" PROBE, POLY ENCL, NO OUTPUT