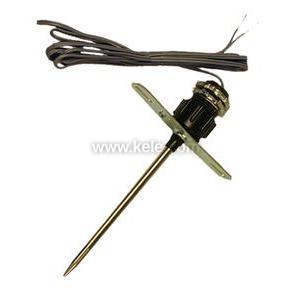 KTDNB81-XCP25 | KELE | Temperature Sensors & Transmitters
Duct Temperature Sensor, No Box, 100 RTD 385 All-purpose thermistor, 25' Non-shielded plenum cable
Manufacturer:
KELE
MPN:
KTDNB81-XCP25
SKU:
KTDNB81-XCP25
availability:Usually Ships in Less Than 5 Business Days
add to cart

product specifications
Duct Temperature||Air Handling Unit
Duct Temperature Sensor, No Box, 100 RTD 385 All-purpose thermistor, 25' Non-shielded plenum cable
TEMP SENSOR, DUCT, 100 RTD 385, 9.00", NO ENCL, NO OUTPUT
product family features
Metal enclosures with stainless steel probes
Thermistor or RTD sensor selections
more information & related documents
The Kele KTD* Duct Thermistor and RTD Sensors are designed to be cost effective with accuracies of ±0.5°F (±0.28°C). Each uses metal enclosures and is constructed for easy installation with any building automation system (BAS). The thermistor is made of a very stable, pre-aged material that offers long-life reliability for HVAC control. The platinum RTD comes in 100Ω and 1000Ω versions. All sensors come with a three-year warranty.
TEMP SENSOR, DUCT, 100 RTD 385, 4.875", NO ENCL, NO OUTPUT