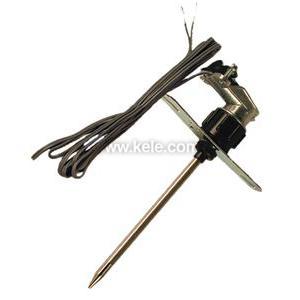 KTD24-XG | KELE | Temperature Sensors & Transmitters
Duct Temperature Sensor, 10K Type II All-purpose thermistor, Greenfield Fitting
Manufacturer:
KELE
MPN:
KTD24-XG
SKU:
KTD24-XG
add to cart

product specifications
T81U-XR||T85U-XR||UR||F-100-331
Duct Temperature||Air Handling Unit
Duct Temperature Sensor, 10K Type II All-purpose thermistor, Greenfield Fitting
TEMP SENSOR, DUCT, 10K TYPE II, 9.00", METALLIC ENCL, NO OUTPUT
product family features
Metal enclosures with stainless steel probes
Thermistor or RTD sensor selections
more information & related documents
The Kele KTD* Duct Thermistor and RTD Sensors are designed to be cost effective with accuracies of ±0.5°F (±0.28°C). Each uses metal enclosures and is constructed for easy installation with any building automation system (BAS). The thermistor is made of a very stable, pre-aged material that offers long-life reliability for HVAC control. The platinum RTD comes in 100Ω and 1000Ω versions. All sensors come with a three-year warranty.
TEMP SENSOR, DUCT, 10K TYPE II, 4.875", METALLIC ENCL, NO OUTPUT