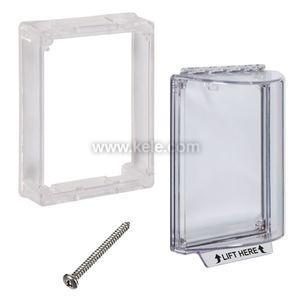 KCOVER-UNIV | SAFETY TECHNOLOGY INTERNATIONAL (STI) | Alarms & Indication
Universal Stopper Cover with Spacer, Long Screws
Manufacturer:
SAFETY TECHNOLOGY INTERNATIONAL (STI)
MPN:
KCOVER-UNIV
SKU:
KCOVER-UNIV
Availability:
15 In Stock
add to cart

product specifications
Universal Stopper Cover with Spacer, Long Screws
UNIVERSAL STOPPER COVER W/SPACER, LONG SCREWS
product family features
Protects against vandalism, accidental damage, dust and grime and severe environments inside and outside
Protects pull stations, keypads, intercom stations, emergency buttons, electrical light switches or duplex plugs
ADA Compliant
Three year guarantee against breakage of polycarbonate in normal use (one year on electro mechanical and electronic components)
more information & related documents
These indoor/outdoor polycarbonate covers protect devices such as dual action pull stations, keypads for entry systems, intercom stations, buttons, light switches, duplex plugs, etc., without restricting legitimate operation. Universal cover options: dome or low profile, with or without horn, flush mount, surface mount or waterproof back box models. Maximum protrusion is 4 inches deep. Low profile models with a horn flash and sound when cover is lifted.
UNIVERSAL STOPPER COVER W/SPACER, LONG SCREWS
SAFETY TECHNOLOGY INTERNATIONAL (STI)