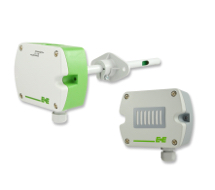 EE850-M11HV1J3/P1BD6 | E+E ELEKTRONIK CORPORATION | Gas & Specialty Sensors
CO2-TEMP DUCT SENSOR, 0-5000PPM, RS-485 OUTPUT, 200MM PROBE, MODBUS RTU, 19200 BAUD
Manufacturer:
E+E ELEKTRONIK CORPORATION
MPN:
EE850-M11HV1J3/P1BD6
SKU:
EE850-M11HV1J3/P1BD6
availability:Usually Ships in Less Than 20 Business Days
add to cart

product family specifications
24 VAC ±20 % or 15-35 VDC
at 25ºC (77ºF) and 1013 mbar (14.7 psi)
< ± (50 ppm +2% of measured value)
< ± (50 ppm +3% of measured value)
< ± (100 ppm +5% of measured value)
±0.3% at 20ºC (±0.54% at 68ºF)
±0.3% (20…80% RH) at 20ºC (68ºF)
Operating and Storage Temperature Range
Analogue: 0-5V or 0-10V, -1 mA < lL < 1 mA, 4-20 mA, RL ≤ 500 Ohm
0…95% RH (non-condensing)
RS485: screw terminals, max. 2.5 mm2 (AWG14)
Polycarbonate, UL94V-0 approved
product family features
Service interface for configuration and adjustment
C02 autocalibration; temperature compensation
Excellent resistance to pollution
Optimum protection against mechanical damage during installation
External mounting holes
Bayonet screws open/close with ¼ rotation
Test report according to DIN EN 10204-2.2
Knockout for 1⁄2" conduit fitting (US )
IP65/NEMA 4 protection class enclosure
more information & related documents
The E+E EE850 Series combines CO2, relative humidity (RH), and temperature (T) measurement in an innovative enclosure. It is ideal for demand-controlled ventilation and building automation systems. It can also be employed in demanding climate and process control. The EE850 Series incorporates the E+E dual wavelength NDIR CO2 sensor, which compensates for aging effects, is highly insensitive to pollution, and offers outstanding long-term stability. The RH sensing element is protected against dust, dirt, and corrosion by the E+E proprietary coating.The EE850 Series provides high measurement accuracy, and its enclosure's functional design facilitates easy and fast transmitter mounting with closed cover. Analogue, digital, and passive T outputs are available, and the RS485 interfaces with Modbus RTU and BACet MS/TP to supply other parameters. An optional adapter and free configuration software provide comfortable configuration and adjustment.
CO2-TEMP DUCT SENSOR, 0-5000PPM, RS-485 OUTPUT, 200MM PROBE, MODBUS RTU, 19200 BAUD
E+E ELEKTRONIK CORPORATION