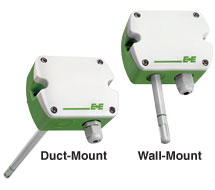 EE160-M1T2J3/P1BD5U2 | E+E ELEKTRONIK CORPORATION | Humidity
RH-TEMP TRANSMITTER, DUCT MOUNT, RS-485, MEMBRANE FILTER, MODBUS RTU, 9600 BAUD, NON-METRIC (US/GB)
Manufacturer:
E+E ELEKTRONIK CORPORATION
MPN:
EE160-M1T2J3/P1BD5U2
SKU:
EE160-M1T2J3/P1BD5U2
availability:Usually Ships in Less Than 20 Business Days
add to cart

product family specifications
7.5″ H X 3.4″ W X 4.2″ D (19.0 x 8.5 x 10.5 cm)
11.8″ H X 3.4″ X W 4.2″ D (30.0 x 8.5 x 10.5 cm)
more information & related documents
Specially designed for HVAC applications, the EE160 sensor by E+E Elektronik is a cost effective, highly accurate and reliable solution for measuring relative air humidity and temperature. The enclosure minimizes installation costs and provides outstanding protection against contamination and condensation, thus ensuring flawless operation. The EE160 employs the new humidity/temperature E+E sensor element HCT01 with excellent long term stability and resistance against pollutants. It provides an accuracy of ±2.5%RH and is available for wall or duct-mounted with current or voltage output. The EE 160 Series versatility is expanded with the configurator adapter cable (HA011059) used with the free configurator software for easy on-site adjustment of the humidity and temperature.
RH-TEMP TRANSMITTER, DUCT MOUNT, RS-485, MEMBRANE FILTER, MODBUS RTU, 9600 BAUD, NON-METRIC (US/GB)
E+E ELEKTRONIK CORPORATION