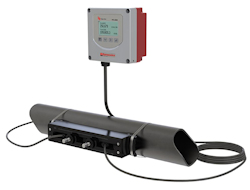 DR-G-JZ-B-S-AF-WW-C-BW-9XXSGRF | BADGER METER/DYNASONICS/RACINE | Flow
BTU METER,2.5"-6" EZ RAIL (DTTJ),24VAC/DC,DUAL 1K RTD,KEYPAD,STANDARD OUTPUT W/AUX OUT
Manufacturer:
BADGER METER/DYNASONICS/RACINE
MPN:
DR-G-JZ-B-S-AF-WW-C-BW-9XXSGRF
SKU:
DR-G-JZ-B-S-AF-WW-C-BW-9XXSGRF
availability:Usually Ships in Less Than 15 Business Days
add to cart

product family specifications
Most clean liquids or liquids containing small amounts of suspended solids or gas bubbles
Flow Accuracy
Medium Pipes (RZ, NZ, WZ, HZ, LZ, YZ, JZ, KZ)
Small Pipes (CA-CT, UZ)

± 0.5% ± 0 0.049 ft/s (0.015 m/s)

1 in. (25 mm) and larger = ±1% ± 0.03 ft/s (0.009 m/s) 3/4 in. (20 mm) and smaller = ±1% of full scale
Velocity
Medium and Large Pipes
Small Pipes


Up to 40 ft/s, depending on pipe and fluid

Up to 20 ft/s, depending on pipe and fluid

Straight Run Requirements
10 diameters upstream, 5 diameters downstream from single elbow
See Datasheet for more Spec Details
product family features
• Large, bi-directional flow measuring range
• Data log up to 8 records
• Modbus® RTU or BACnet® MS/TP over EIA-485; Modbus TCP/IP; BACnet/IP; AquaCUE®/BEACON® connectivity
• Configure and troubleshoot over USB with SoloCUE
• Reynolds, ultrasonic speed and temperature compensation
• Large, easy-to-read graphical display
• Rugged, aluminum enclosure for a long service life in harsh environments

more information & related documents
The TFX-5000 transit time ultrasonic flow meter measures volumetric flow and heating/cooling energy rates in clean liquids as well as those with small amounts of suspended solids or aeration, such as surface water or raw sewage.TFX-5000 flow and energy meters clamp onto the outside of pipes and do not contact the internal liquid.
BTU METER,2.5"-6" EZ RAIL (DTTJ),24VAC/DC,DUAL 1K RTD,KEYPAD,STANDARD OUTPUT W/AUX OUT
BADGER METER/DYNASONICS/RACINE