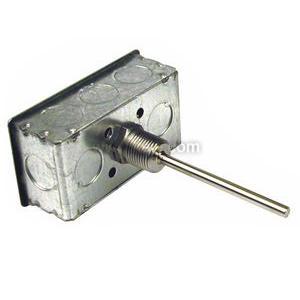 AS2PW055P807M1 | MINCO PRODUCTS, INC | Temperature Sensors & Transmitters
Immersion Temperature Sensor, Assembly probe for Two-Wire RTD's, 1000Ω 0.00375 Ω/°C platinum curve, 6" leads, 5.5" Probe, Weatherproof Box, NEMA 3R, TT-807 Transmitter, -50° to 50°C, No calibration data, sensor or transmitter
Manufacturer:
MINCO PRODUCTS, INC
MPN:
AS2PW055P807M1
SKU:
AS2PW055P807M1
availability:Usually Ships in Less Than 24 Business Days
add to cart

product specifications
Immersion Temperature Sensor, Assembly probe for Two-Wire RTD's, 1000Ω 0.00375 Ω/°C platinum curve, 6" leads, 5.5" Probe, Weatherproof Box, NEMA 3R, TT-807 Transmitter, -50° to 50°C, No calibration data, sensor or transmitter
TEMP SENSOR, IMMERS, 1K RTD 375, 5.50" PROBE, METALLIC ENCL
product family features
Low cost, easy installation
NIST certification available
more information & related documents
The Minco Immersion Temperature RTD Sensors use a thin film platinum element for fast, accurate point measurement for energy and environmental control applications. The Model AS _ _ _ Q immersion probes are designed with a 1/2" tapered thread for easy installation in thermowells. The Model AS _ _ _ P uses a weather-resistant box.
TEMP SENSOR, IMMERS, 1K RTD 375, 5.50" PROBE, METALLIC ENCL