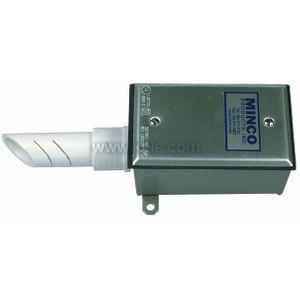 AS2PW040O807A2 | MINCO PRODUCTS, INC | Temperature Sensors & Transmitters
Outside Air Temperature Sensor, 3-wire, 1K RTD 375, 6" Leads, 4" Probe, TT-807 Transmitter, (20°/120°F) or (-7°/49°C), Sensor/Transmitter matched at 0°C with NIST
Manufacturer:
MINCO PRODUCTS, INC
MPN:
AS2PW040O807A2
SKU:
AS2PW040O807A2
availability:Usually Ships in Less Than 24 Business Days
add to cart

product specifications
Outside Air Temperature Sensor, 3-wire, 1K RTD 375, 6" Leads, 4" Probe, TT-807 Transmitter, (20°/120°F) or (-7°/49°C), Sensor/Transmitter matched at 0°C with NIST
TEMP SENSOR, OSA, 1K RTD 375, 4.00" PROBE, METALLIC ENCL
product family features
Low cost, easy installation
NIST certification available
more information & related documents
The Minco Outside Air (OSA) Temperature RTD Sensors use a thin film platinum element for fast, accurate point measurement for energy and environmental control applications.The Model AS _ _ _ O outside air sensor features a non-heat conductive, solar reflecting noncorrosive shield. This configuration is completely sealed against moisture in weather conditions. The slotted shield allows air to flow freely to the stainless steel probe to provide accurate measurement. Installation is made easy with a 1/2" female threads.
TEMP SENSOR, OSA, 1K RTD 375, 4.00" PROBE, METALLIC ENCL