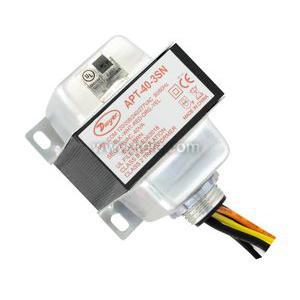 APT-50-1DN | DWYER INSTRUMENTS INC | Power Supplies
AC Power Transformer, 120 VAC Input, 24 VAC Isolated Output, 50 VA, Dual Hub
Manufacturer:
DWYER INSTRUMENTS INC
MPN:
APT-50-1DN
SKU:
APT-50-1DN
availability:Usually Ships in Less Than 1 Business Days
add to cart

product specifications
Power Controller||Powering Sensors||Driving Relays||Driving Digitals I/O Circuits||Voltage Reduction||Magnetic Switches
AC Power Transformer, 120 VAC Input, 24 VAC Isolated Output, 50 VA, Dual Hub
TRANSFORMER, 50 VA, 120 VAC, FOOT/DUAL HUB MOUNT, WITH CIRCUIT BREAKER
product family features
Universal supply voltage input
With or without integral circuit breaker
more information & related documents
The Dwyer APT Series AC Power Transformers provide isolated step-down to 24 VAC with models offering VA ratings of 20, 40, 50, 75, 96, or 150 VA's. These cost efficient transformers are offered in single or dual 1/2″ NPT threaded hub mounts with 8-1/2″ 18 AWG wire leads, to meet the installation requirements of a variety of building automation and control panel applications in HVAC. All models are UL Class 2 listed. Kele is the leading supplier of building automation products. When you need the right product, right now, count on Kele.
TRANSFORMER, 50 VA,120 VAC TO 24 VAC,FOOT/DUAL HUB MOUNT CIRCUIT BREAKER