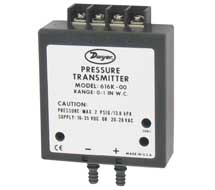 * product family image displayed
616W-3 | DWYER INSTRUMENTS INC | Pressure
DWYER
Manufacturer:
DWYER INSTRUMENTS INC
MPN:
616W-3
SKU:
616W-3
Availability:
Usually Ships in Less Than 8 Business Days
add to cart

product family specifications
4-20 mA or unit with field selectable 0-10V or 0-5V
Barbed, dual size to fit 1/8″ and 3/16″ (0.32 and 0.5 cm) ID rubber or vinyl tubing
16 to 35 VDC (2 or 3 wire), 20 to 28 VAC (3 wire)
±0.11% FS/℉ (±0.19% FS/℃) typical
Zero and Span Adjustments
DC=1000Ω max.; AC=1200Ω max.
Screw-type terminal block
Air and non-combustible, compatible gases
product family features
One-Touch® technology for zero and span calibration
Easy to install and maintenance
Open screw terminals for easy wiring
more information & related documents
The 616KD Series Differential Pressure Transmitters with One-Touch® technology are cost-effective, compact transmitters that reduce up front costs as well as expenses over the life of the product. The transmitter not only alleviates cumbersome turn pots typically found in most transmitters, but eliminate entirely the need to span the instrument during calibration. With a single digital push button, both ZERO AND SPAN are calibrated properly, nothing else is required. No additional reference pressure sources and separate calibration devices are necessary; no need to remove from service and send to a lab. All that is required of the installer or user is to let the unit sit at zero reference pressure, then push a button. That is it! The transmitter is now ready for operation. Time savings are enormous over the life of the product compared to traditional transmitters which require time to annually remove the product from service plus the additional time to actually perform a complete full-span calibration.
Installation and Operation Instructions