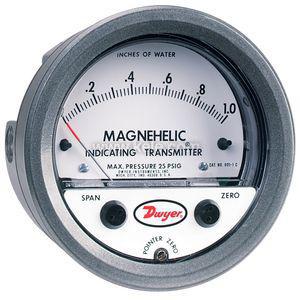 605-2 | DWYER INSTRUMENTS INC | Pressure
Differential Pressure Indicating Transmitter, Range 0-2.0" W.C., Max. Pressure 2 psi (13.79 kPa), ±0.5% Electrical Accuracy, ±2% Mechanical Accuracy
Manufacturer:
DWYER INSTRUMENTS INC
MPN:
605-2
SKU:
605-2
add to cart

product specifications
Differential Pressure Indicating Transmitter, Range 0-2.0" W.C., Max. Pressure 2 psi (13.79 kPa), ±0.5% Electrical Accuracy, ±2% Mechanical Accuracy
DIAL GAUGE, ±2.00%, 0-2.00" WC, 4.00" DIAL, 1/8" CON, DRY, CENTER BACK MOUNT
product family features
Monitor pressures in ducts, rooms, or total building pressures
Local indication of clean room pressures with process signal sent to control room
more information & related documents
The Series 605 Magnehelic® indicating transmitter provides for both visual monitoring and electronic control of very low differential pressure. The Series 605 is ideal for control applications in building HVAC systems where local indication is desired during routine maintenance checks or necessary when trouble shooting the system. The easily read dial gage is complimented by the two-wire, 4-20 mA control signal utilizing the time-proven Dwyer® Magnehelic® gage mechanical design and Series 600 transmitter technology. The two-wire design with terminal strip on the rear simplifies connection in any 4-20 mA control loop powered by a 10-35 VDC supply.
DIAL GAUGE, ±2.00%, 0-2.00" WC, 4.00" DIAL, 1/8" CON, DRY, CENTER BACK MOUNT