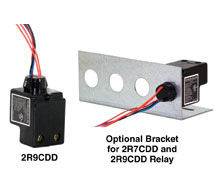 * product family image displayed
2R7C | INTELLIGENT LIGHTING CONTROL, INC | Lighting Controls
SPST LIGHTING RELAY, 120-277 VAC, 20A
Manufacturer:
INTELLIGENT LIGHTING CONTROL, INC
MPN:
2R7C
SKU:
2R7C
Availability:
Usually Ships in Less Than 5 Business Days
add to cart

product family specifications
18-30 VAC momentary pulse
12-24 VDC momentary Pulse
(CDD) Stands for double diode rectified
SPST, Mechcanically latching, dry contact
2R9CDD only, 30V AC/DC @1A (ORG/ORG wires)
ON, (RED) 17-250 ms Pulse, Nominal 24 V AC/DC
OFF, (BLK) 17-250 ms Pulse, Nominal 24 V AC/DC
Coil Impedance 68-73Ω AC, 50-60ΩDC
175 ma @24VAC, 350 mA @ 24 VDC
1M cycles no load, 200K cycles full load
Short Circuit Current (SCCR)
3 or 5 Control wires - 6″, 20 AWG
Contacts- 4 Screw clamp for 10-14 AWG
1.8W x 2.6L x 1.5D (4.6 x 6.6 x 3.8 cm) See diagram
more information & related documents
ILC Model 2R7CDD and 2R9CDD lighting Relays are mechanical latching-type units requiring only a momentary 24 VDC or VDC switch circuit pulses to open or close line voltage circuits. All ILC low voltage relays may be used to full rated capacity for ballast or resistive loads. The Model 2R9CDD includes an auxillary contact on the low voltage side for status indication.
SPST LIGHTING RELAY, 120-277 VAC, 20A
INTELLIGENT LIGHTING CONTROL, INC