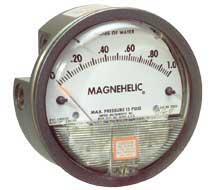 * product family image displayed
2301-CB | DWYER INSTRUMENTS INC | Pressure
MAGNEHELIC DIFF GAGE
Manufacturer:
DWYER INSTRUMENTS INC
MPN:
2301-CB
SKU:
2301-CB
Availability:
Usually Ships in Less Than 10 Business Days
add to cart

product family specifications
Readout (Analog, digital etc.)
Red tip needle w/ white back ground
Dial (white, mirrored, LCD, LED, Stop pins Etc.)
4″ half dial w/ graduations per order
Window Material, (Glass, Polycarbonate etc.)
Selectable by order (″WC)
Calibration (adjustable, Fixed, Etc.)
Manual zero adjust by center screw
Sensor principle (Balanced, Bourdon tube, Capacitive)
Operating Pressure Ranges
-20 in Hg to 15 psig (-67.75 to 103.45 kPa)
Max Operating Pressure (Proof)
-20 in Hg to 15 psig (-67.75 to 103.45 kPa)
Silicone, aluminum, acrylic, polycarbonate and steel
Two 1/8″ FNPT (H/L), (Back & Side ports)
Two 1/8″ FNPT barbed fittings & plugs (included)
Vertically, Three flush mounting tabs (included)
(if needed) None required
Aluminum housing w/Clear Acrylic face
˜4.75 diameter (4.5″ hole) x 1.69″D (12.6 (11.43) x 4.29cm)
product family features
Easy-to-read 4" (10.16 cm) white dial and red-tipped pointer
Flush or surface mounting
Easily accessible zero adjustment
Corrosion-resistant cast aluminum housing
Back and side connections
more information & related documents
The 2000 Series Magnehelic® differential pressure gauges provide an accurate, economical indication of positive, negative, or differential air pressure in HVAC applications and building automation systems, BAS. The pressure gauge includes a 4" (10.2 cm) easy-to-read dial and a frictionless magnetic movement in a cast aluminum housing. The differential pressure gauge is resistant to shock, vibration, and overpressure. The Magnehelic® Gauge has both back and side connections, so that it may be either surface- or flush-mounted. Ranges are available from 0" to 0.25" W.C. up to 10'' W.C.