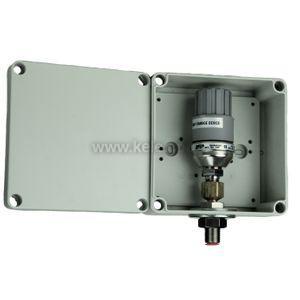 209100PG2M11RED | SETRA SYSTEMS, INC | Pressure
Setra 209 OEM Pressure Transducer, ±0.25%, 0-100 PSI, Gauge, 1/4" NPT Male, 4-20 mA, Enclosed (Not Watertight) With Red LCD
Manufacturer:
SETRA SYSTEMS, INC
MPN:
209100PG2M11RED
SKU:
209100PG2M11RED
add to cart

product specifications
Setra 209 OEM Pressure Transducer, ±0.25%, 0-100 PSI, Gauge, 1/4" NPT Male, 4-20 mA, Enclosed (Not Watertight) With Red LCD
PRESS XMTR, ±0.25%, 0-100 PSI, 4-20 MA
product family features
Compatible with most common applications
Stainless steel construction
Optional voltage output available
more information & related documents
The Setra 209 Series pressure transmitter is specifically designed for industrial applications and building automation systems with high performance requirements. These pressure transmitters measure gauge pressure and can be used with gases or liquids compatible with 17-4 PH stainless steel. The 209 Series is packaged in a rugged, stainless steel/Valox housing, which is small and lightweight. The stainless steel capacitive sensor and high level output, IC-based circuit assures excellent stability.
PRESS XMTR, +/-0.25%, 0-100 PSI, 4-20 MA