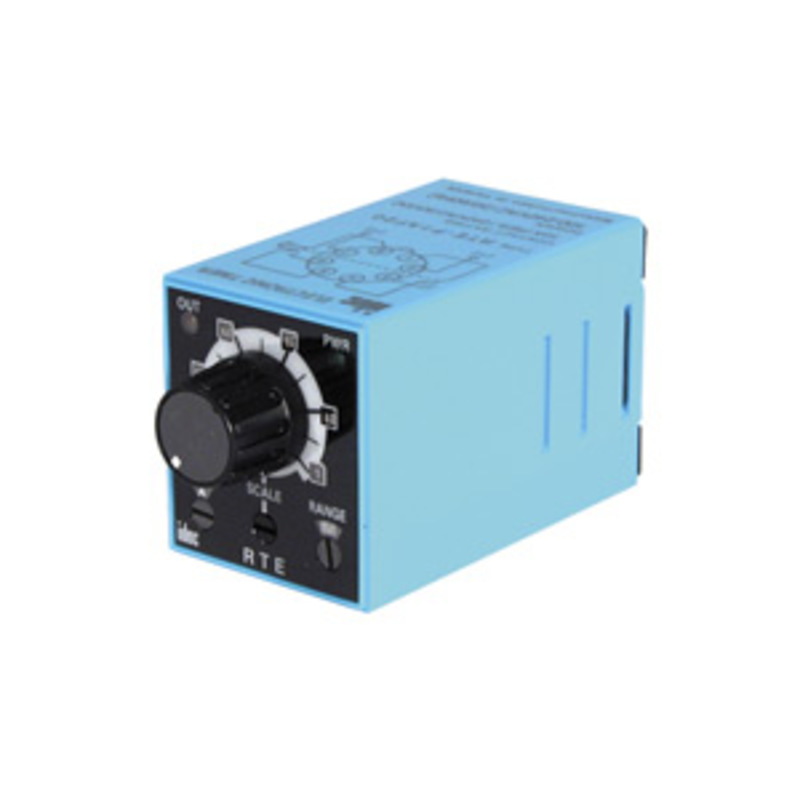 RTE-P2AF20 | IDEC | Relays & Contactors
Timer Multi Function 10A Contact Delayed DPDT 120-240VAC 11 Pin Plug-In
Manufacturer:
IDEC
MPN:
RTE-P2AF20
SKU:
RTE-P2AF20
availability:Usually Ships in Less Than 8 Business Days
add to cart

product specifications
CE Certified, UL Listed #E66049
2 Form C, DPDT (Delay Output)
Timer Multi Function 10A Contact Delayed DPDT 120-240VAC 11 Pin Plug-In
1/6 HP 120V AC, 1/3 HP 240V AC
50,000,000 operations minimum
35 to 85%RH (without condensation)
-4 to 149°F (-20 to 65°C) without freezing
product family features
Selectable 10 timing functions and 20 time ranges
Time delay settings from 0.1 second to 600 hours
Two Form C delayed output contacts
High repeat accuracy of ±0.2%
On and timing out LED indicators
Standard 8-pin, 11-pin, or 11-blade relay socket
more information & related documents
The RTE Series Multi-Function Electronic Timers are socket-mounted adjustable time delay relays available in two function groups, making them ideal for Building Automation Systems, BAS. The timer functions and time ranges are easily selected by setting external switches. The knob on the front of the timer is used to set the precise delay period within the selected time range. Timer functions RTE-B1/RTE-P1 are power-triggered and include ON-Delay, Interval, OFF-Cycle, ON-Cycle. Timer functions for RTE-B2/RTE-P2 are signal triggered and include ON-Delay, OFF-Cycle, OFF-Delay, ON-Cycle and Single-Shot.
TD RELAY 100-240VAC SS/DOB 0 - 600HR