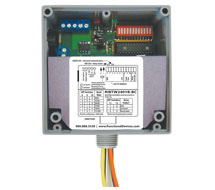 * product family image displayed
RIBTW2401SB-LN-NC-P1 | Functional Devices | Relays & Contactors
LON 20A SPST-N/C 24VAC/DC/120VAC W/ 1 DI & HOA
Manufacturer:
Functional Devices
MPN:
RIBTW2401SB-LN-NC-P1
SKU:
RIBTW2401SB-LN-NC-P1
availability:
Usually Ships in Less Than 10 Business Days
add to cart

product family specifications
24 VAC @ 111 mA, 24 VDC @ 81 mA, 120 VAC @ 96 mA
20A resistive @ 277 VAC, 20A ballast N.O. @ 120/277 VAC, N.C. @ 277 VAC, 10A tungsten N.O. @ 120 VAC, 1110 VA pilot duty @ 277 VAC, 770 VA pilot duty @ 120 VAC, 2 hp @ 277 VAC, 1 hp @ 120 VAC
10 million cycles minimum
9600, 19200, 38400, 57600, 76800, and 115200
Green: network status, Red: relay status
-30° to 140°F (35° to 60°C)
4" H x 4" W x 1.8" D (10.2 x 10.2 x 4.6 cm); 1/2″ NPT nipple
UL listed file #E68805, CE certified, BACnet certified
product family features
Enclosed BACnet relay with 20A contacts
Additional dry contact input (powered by Class 2 circuit)
LED indication of network status and relay status
UL listed and BACnet compatible, CE
more information & related documents
The Functional Devices Model RIBTW2401B-BC and RIBTW2402B-BC BACnet Relay in a Box are open-protocol relays controlled from a remote location using a BACnet network. The relay is powered locally, and communication with the network is over a twisted pair of wires. Using standard BACnet objects, the relay can be commanded on and off over the network and the relay state communicated back. A separate digital input is provided to communicate the status feedback signal from a current switch (or other switched feedback device) to the BACnet network.
LON 20A SPST-N/C 24VAC/DC/120VAC W/ 1 DI & HOA