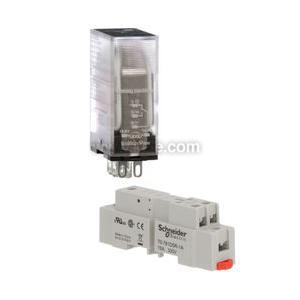 KIT-781XAXRC-24A | SCHNEIDER ELECTRIC SE RELAYS LLC | Relays & Contactors
Plug-In Power Relay, Legacy, 15A, SPDT, 24 VAC, Clear Cover, Socket 70-781D5R-1A Included
Manufacturer:
SCHNEIDER ELECTRIC SE RELAYS LLC
MPN:
KIT-781XAXRC-24A
SKU:
K781XAXRC24A
add to cart

product specifications
16-781C||16-781C1||16-781IDC||16-781SC||16-DCLIP-1||70-BSMLG-24||70-BSMM-24
Industrial Machine Control||Control Panel||Energy Management
15A @ 277 VAC||10A @ 240 VAC||15A @ 28 VDC||1/2 HP @ 120 VAC||1 HP @ 277 VAC
Plug-In Power Relay, Legacy, 15A, SPDT, 24 VAC, Clear Cover, Socket 70-781D5R-1A Included
Socket||Push Button||Mechanical Flag
RELAY, PLUG-IN, 1-SPDT, 120 VAC, 15A
product family features
Optional LED and momentary/maintained pushbutton
DIN rail/surface mount or PCB sockets
Mating socket - 781: 70-781D5R-1A
more information & related documents
The Magnecraft 781R Series of SPDT plug-in style relays optimize design flexibility, expedite installation, and simplify maintenance. The 781R Series relays have up to 15A load ratings, multiple contact sets, signature full-feature covers, and UL listing. They are equipped with a mechanical flag indicator to show relay status in the manual or powered condition. Full-featured versions of these relays also include a bi-polar LED to show coil ″on″ or ″off″ status, a push button that allows momentary manual operation without the need for coil power, and a removable lock-down door that can hold the push button and relay contacts in the opposite position.
RELAY, SPDT, 24VAC W/ SOCKET
SCHNEIDER ELECTRIC SE RELAYS LLC