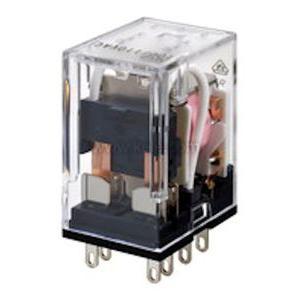 MY2 AC110/120 (S) | Omron | Relays & Contactors
Relay, Standard type/Relay, Single stable, Single Contact Method, 110-120 VAC Coil, Plug-in terminal, Not equipped, 24 VDC 5 A, 220 VAC 5 A, Output DPDT (24 VDC 5 A), With Latching Lever
Manufacturer:
Omron
MPN:
MY2 AC110/120 (S)
SKU:
MY2-AC120
availability:Call Kele For Availability
add to cart

product specifications
Industrial Machine Control||Control Panel||Energy Management
5A @ 24 VDC||5A @ 220 VAC
Relay, Standard type/Relay, Single stable, Single Contact Method, 110-120 VAC Coil, Plug-in terminal, Not equipped, 24 VDC 5 A, 220 VAC 5 A, Output DPDT (24 VDC 5 A), With Latching Lever
RELAY, PLUG-IN, 1-DPDT, 120 VAC, 5A
product family features
Blade-style, pin-style and compact models
DIN rail or surface mount
UL recognized, CSA certified, CE certified
more information & related documents
The Omron general-purpose relays are available in the LY, MK, and G2R-S Series. The LY Series is available in SPDT, DPDT, 3PDT, and 4PDT contact configurations driven by AC or DC coils. It has up to a 15A switching capacity and blade terminals for socket mounting. The MK Series is available in DPDT and 3PDT configurations driven by AC or DC coils and has up to a 10A switch rating. The MK Series has pin-type terminals for socket-mounting and comes standard with a mechanical indicator and push-to-test button. The G2R-S Series is available with SPDT or DPDT contacts rated up to 10A and driven by AC or DC coils. They are socket-mounted, and their small size saves space. They come with a mechanical indicator, optional LED, and lockable test button.