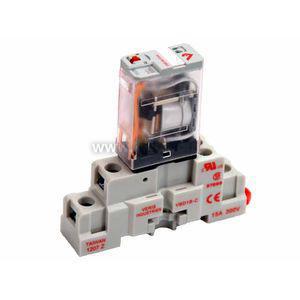 CKIT-VMD1B-F24A | Veris Industries | Relays & Contactors
Full-featured 24 VAC SPDT/F blade style relays for socket/DIN mounting. The VMD1B-F Series are equipped with an LED for coil proof, a flag for contact proof, an override lever, and a push-to-test button for momentary contact control.; The DIN-rail compatible VBD1B-C sockets feature a slim, attractive design. Benefits of full featured model: Color-coded push button...allows manual operation of relay. AC coils red or DC coils blue; Removable override lever...when activated, locks push button and contacts in the powered position; Flag indicator...shows relay status in manual or powered condition; LED status lamp...shows coil status; I.D. tag/write-on plastic label...used for identification of relays in multi-relay circuits; 2-Way side or DIN rail mounting system...retrofits existing panel mounting and 35mm DIN rail
Manufacturer:
Veris Industries
MPN:
CKIT-VMD1B-F24A
SKU:
CKIT-VMD1B-F24A
Availability:
Usually Ships in Less Than 9 Business Days
add to cart

product specifications
Full-featured 24 VAC SPDT/F blade style relays for socket/DIN mounting. The VMD1B-F Series are equipped with an LED for coil proof, a flag for contact proof, an override lever, and a push-to-test button for momentary contact control.; The DIN-rail compatible VBD1B-C sockets feature a slim, attractive design. Benefits of full featured model: Color-coded push button...allows manual operation of relay. AC coils red or DC coils blue; Removable override lever...when activated, locks push button and contacts in the powered position; Flag indicator...shows relay status in manual or powered condition; LED status lamp...shows coil status; I.D. tag/write-on plastic label...used for identification of relays in multi-relay circuits; 2-Way side or DIN rail mounting system...retrofits existing panel mounting and 35mm DIN rail
RELAY/SOCKET KIT/SPDT/F W/C SOCKET/24VAC
product family features
See Parts & Pricing page for various relays and contactors.
Contact Kele representatives for any question you may have.
more information & related documents
Kele offers a wide variety of relays and contactors and other related miscellaneous devices from many different vendors. Kele wants to be your one-stop for all of your HVAC and building automation needs. If you cannot find what you are looking for on the web, please call so that we may provide you with more information.
RELAY/SOCKET KIT/SPDT/F W/C SOCKET/24VAC