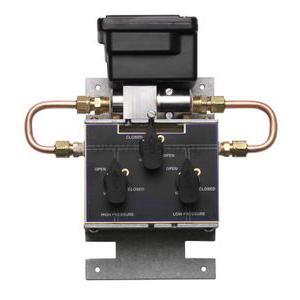 2301030PD3V11AC | Setra | Pressure
Setra Model 230 Wet-Wet Differential Pressure Transmitter, 0-30 psid, 3-V Manifold, 4-20 mA, Buna-N Bleed Screw Seals, Calibration Certificate
Manufacturer:
Setra
MPN:
2301030PD3V11AC
SKU:
2301030PD3V11AC
availability:Usually Ships in Less Than 10 Business Days
add to cart

product specifications
Setra Model 230 Wet-Wet Differential Pressure Transmitter, 0-30 psid, 3-V Manifold, 4-20 mA, Buna-N Bleed Screw Seals, Calibration Certificate
WET-WET DIFF PRESS XMTR, FIXED, ±0.25%, 0-30 PSID, FLD SEL OUT, NO REM SNSR
product family features
Stainless steel wetted parts
Current or voltage outputs
Mounting bracket included
more information & related documents
The Setra Model M230 Differential Pressure Transmitter is a highly accurate differential pressure transmitter that incorporates a capacitive technology to produce a linear electronic signal proportional to the differential pressure. It will measure differential pressure in unidirectional applications as much as 100 psi and bidirectional applications as much as 50 psi. The stainless steel wetted parts and elastomer seals make this unit ideal for both liquids and gases. The NEMA 4 (IP65) case keeps the internal electronics protected from the environment.
DP TRANS WET 0-30 PSID 3VAL 4-20MA BUNA-N