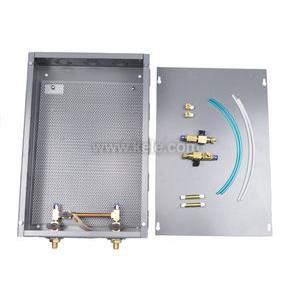 BVA-5-MAM | Kele | Pressure
5 Valve Bypass For Mamac PR282 Differential Pressure Transmitter, Un-Assembled
Manufacturer:
Kele
MPN:
BVA-5-MAM
SKU:
BVA-5-MAM
Availability:
82 In Stock
add to cart

product specifications
5 Valve Bypass For Mamac PR282 Differential Pressure Transmitter, Un-Assembled
5 VALVE BYPASS FOR MAMAC PR282
more information & related documents
Differential pressure transmitters are often installed in systems with pressures much higher than the differential pressure being monitored. During installation, start-up, or shutdown, the pressure differential may exceed the transmitter differential pressure rating, resulting in severe damage to the transmitter. The Kele Model BVA-5 Bypass Valve Assembly will minimize this possibility. When it is purchased with a transmitter, the transmitter is assembled in a NEMA 1 or NEMA 3R enclosure with two isolation valves, an equalizing valve, and two vent valves mounted and piped. Optional pressure snubbers are also available mounted on the Model BVA-5.The Model BVA-5 is designed for use on systems with maximum pressures less than 150 psig (1034.3 kPa) at 150 Deg. F (65 Deg. C).
5 VALVE BYPASS FOR MAMAC PR282