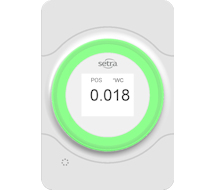 * product family image displayed
LITE250LBDIR | Setra | Pressure
LITE VISUAL LIGHT INDICATOR +/-250PA +/-0.5% ACCURACY INSIDE ROOM
Manufacturer:
Setra
MPN:
LITE250LBDIR
SKU:
LITE250LBDIR
availability:
Usually Ships in Less Than 20 Business Days
add to cart

product family specifications
Thermal Effects
Zero shift %FS/°F (°C)
Span shift %FS/°F (°C)

±0.033 (±0.06)
±0.033 (±0.06)
±1 PSI (15" WC for <0.10" WC FS)
Air or non-conductive, non-explosive gases
Can be mounted vertical or horizontal. Re-zero after installation
5 to 95% RH (non-condensing)
Enclosure Protection/Ingress protection (IP) rating
Single press-and-hold to re-zero sensor
Set numeric threshold in "WC or Pa
Set door alarm delay for 0-999 seconds
Set display to show POS, NEG, or off
Set display to always-on, or momentary press to show pressure value
1,2, or 3 after decimal point, POS or NEG
Set LED ring to
1). Steady green, steady red if alarm
2). Green OFF, and steady red if alarm
3). Always off
Set units on the display to show "WC or Pa
24 VAC (+/-10%), 24 VDC (18-32), 50-60 HZ
Set for 0-5V, 0-10V, or 4-20mA signal
Stranded unshielded twisted-pair, 18-24 AWG
3.42" W x 4.88"H x 1.83"D
(67 mm x 124 mm x 46.5 mm)
Single-gang US electrical box, China 86 box,
European back box, or equivalent interior
dimensions
Fire-retardant plastic UL94 V-0
Color: RGB, 65K
Resolution: 128x160, backlight: LED
Red illuminated LED light ring , 11mm standoff
from faceplate, viewable at 90° angle from side
product family features
• Simple single-room pressure indication for all
pressurized healthcare spaces
• Saves preventive maintenance from manually
checking each room
• Sleek and attractive single wall plate
• Simple to install in minutes
• Visual alarm via red/green light ring
• Silent operation, no audible alarm
• Offset light pipe that can be seen at an angle or
down a hallway
• Digital display can be always-on or momentary
• Full configuration is easy, using just 3 buttons
• Analog output provides pressure reading to BMS
system
• Works with Setra FLEX to serve rooms with multiple
doors
more information & related documents
Setra Lite provides a simple, cost-effective, and accurate way to measure and display room differential pressure in areas today that require manual verification. For local staff managing an area, Setra Lite has a light ring that is green or red, showing a clear indication of room conditions. For the facility manager, using Setra Lite means the frequency of preventative maintenance walk-by inspections can be reduced because Setra Lite is monitoring the space.Setra Lite has many features found only in larger, more complex room pressure monitors. These include a bright light ring that can be seen at an angle or down a hallway, a digital display of the pressure value that is always-on or momentary, an alarm delay for door entry, and POS or NEG room mode. The Setra Lite sensor has Setra's accuracy and reliability you know you can trust.Setra Lite is about the size of a standard light switch, and just as a simple to install. It fits in a single-gang US electrical box, international 86-box or international round back-box, and is powered by 24VAC or 24VDC. The reference side pressure pickup is integral with the Lite faceplate. An analog output provides the building management system with the pressure signal for any additional trending or alarming needed. The Setra Lite also integrates seamlessly with the Setra FLEX environmental monitor. Mount Setra Lite at additional doors that enter the space, and use an on-screen badge to display its value.
LITE VISUAL LIGHT INDICATOR +/-250PA +/-0.5% ACCURACY INSIDE ROOM