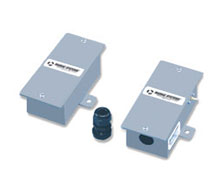 * product family image displayed
PR-243-R5-VDC | MAMAC Systems | Pressure
PRESS XMTR, +/-1.00%, 0-200 PSIG, 0-5 VDC, 0-10 VDC
Manufacturer:
MAMAC Systems
MPN:
PR-243-R5-VDC
SKU:
PR-243-R5-VDC
Availability:
Usually Ships in Less Than 14 Business Days
add to cart

product family specifications
12-40 VDC; 12-35 VAC (VDC output units only)
3kΩ max. at 40 VDC (mA output units); 1kΩ min. (VDC output units)
Baked on enamel - PMS2GR88B
10 to 90%, RH non-condensing
Unpluggable screw terminal block
Compensated Temperature Range
18 Ga C.R. steel NEMA 4 (IP-65)
more information & related documents
The MAMAC Systems PR-243 Series Pneumatic Pressure Transmitter utilizes a piezoresistive silicon sensing element to provide a highly accurate, stable means of measuring gauge pressures. The MAMAC PR-243 Series works with dry air or inert gases with up to three field selectable pressure ranges in one unit.
PRESS XMTR, +/-1.00%, 0-200 PSIG, 0-5 VDC, 0-10 VDC