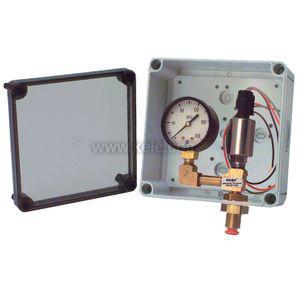 PSS2-75-LCD | Kele | Pressure
Stainless Steel 4-20 mA Pressure Transmitter, 0-75 psig (0-517.1 Pa), Model LP1-1C LCD Display w/Enclosure (Not Watertight, Brass Fittings)
Manufacturer:
Kele
MPN:
PSS2-75-LCD
SKU:
PSS2-75-LCD
availability:Usually Ships in Less Than 5 Business Days
add to cart

product specifications
Stainless Steel 4-20 mA Pressure Transmitter, 0-75 psig (0-517.1 Pa), Model LP1-1C LCD Display w/Enclosure (Not Watertight, Brass Fittings)
PRESS XMTR, ±0.50%, 0-75 PSIG, 0-517.1 PA, 4-20 MA
product family features
Splash-proof, plug-in electrical connector
For steam, water, glycol, refrigerant, and more
304L/316L stainless steel wetted parts
High overpressure capability
more information & related documents
The Kele PSS2 Series Stainless Steel Pressure Transmitter is highly accurate and compact, which makes it ideal for HVAC, building automation, and process gauge pressure applications. A splash-proof Packard-type electrical connector is provided for ease of installation. Eleven standard ranges are available for a wide variety of applications.